What is the difference between standard and express shipping?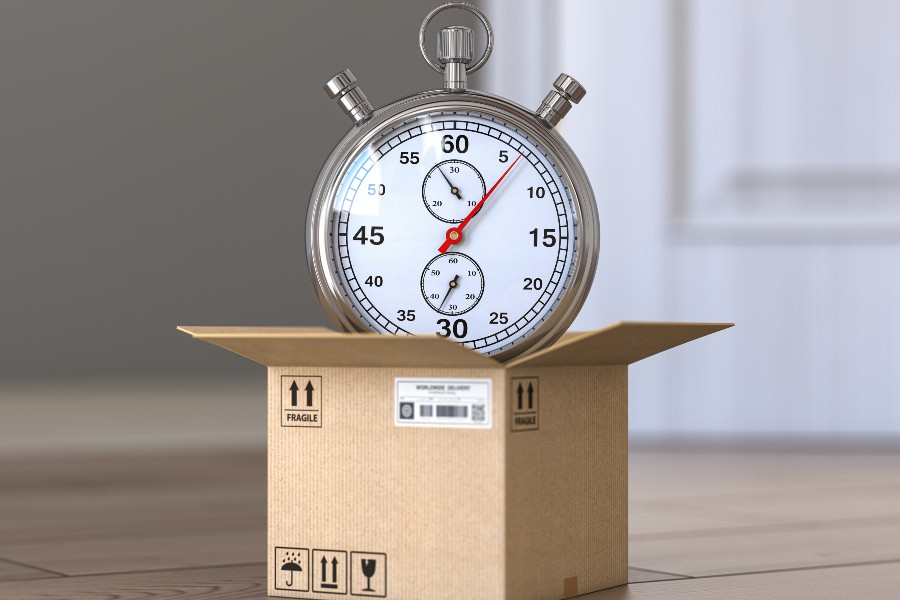 If you're about to start navigating the world of shipping, then understanding the difference between standard and express shipping is essential. These two concepts are worlds apart when it comes to delivery time.
And while both have their pros and cons, express delivery and standard delivery differ significantly from each other. That's why we've prepared this blog article for you to help you better navigate and understand the difference between standard and express shipping. Let's get started.
What is standard shipping?
With the rise of e-commerce and online shopping today, it's essential to ensure you understand your shipping options. That's why one of the questions you will often find yourself asking is what is standard shipping?
In short, standard shipping's meaning can be linked to some words that it is commonly associated with. These are ground shipping or regular shipping. In these cases of shipments being carried out, the time for your product to reach your customer's destination or location is usually slower and it is carried out by road, rail or sea means.
As such, it takes longer and is not always suitable for products that may be sensitive to time delays such as food, medication, electronics or personal hygiene products, among others. So, when it comes to the question of what is standard shipping, you now have a better understanding of what it entails.
What is express shipping?
We now come to the question of what is express shipping? Express shipping is another shipping method and consequently, the express shipping's meaning can be broken down into the following concepts.
This method of shipment is generally faster than standard shipping as products are released from warehouses much faster to get them to the customer within a day or a maximum of three days.
In addition, when asking what is express shipping, it's also important that the means of transportation differs from standard shipping. For example, express shipping is usually carried out by air and it may also involve some courier services by road to ensure that your parcel is delivered on time.
Standard shipping vs express shipping
Having covered the basics of standard shipping vs express shipping and understanding that the main difference between the two is the delivery time in terms of which a product is delivered to the customer, it's also important to consider other defining characteristics and factors when it comes to standard shipping vs express shipping to help you make more informed decisions. Here is our brief breakdown of what you need to know.
Standard and express delivery time
If you are wondering how long does it take for standard shipping and how many days does express shipping take, the answer is the difference of a couple of days. Whereas standard shipping time can take anywhere from two to eight days, express shipping time will range from 24 to 72 hours. Most of the time, the difference between standard shipping time and express shipping time will depend on your customer's requirements, the cost involved and the nature of the products and how quickly they need to be shipped to a final location.
Shipping cost
We alluded to the shipping cost above but it's worth going into some more detail about it separately. It's safe to say that the shipping cost of express and standard shipping differ. That's because of the type of transportation that is used, the resources that are employed to get the product to the final consumer and the type of courier companies that your chosen shipping partner has relationships with. For example, we at Mail Boxes Etc. Denmark have strong relationships with FedEx, TNT and DHL international shipping, among others.
Dispatch from warehouse
Many e-commerce companies use warehouses to store their products. Sometimes, these warehouses are quite simple and other times, they may be considered quite sophisticated. The larger and more complex the warehouse, the more costly the product will be to be shipped with express delivery because of the manpower and resources required to locate the product, mark it as "released" from the warehouse, update the inventory records of the company and other factors. Standard delivery is often much cheaper than the express option because it doesn't require as many resources to get the product out of the warehouse at a fast speed.
Cost effectiveness
When your customers are looking for an urgent delivery, in many cases, they will be aware that cost for shipping and delivery will be higher because of all the resources that are used during the entire process from warehouse retrieval to delivering to their doorstep. As for standard delivery, this is often a cheaper option both for customers and e-commerce companies, although the delivery process itself can be much slower. With instant gratification requirements and customers seeking fast deliveries, they are often quite happy to pay a few dollars extra to get their items delivered faster. Those that are more budget conscious will be happy to wait a few extra days for their deliveries.
High-quality and professional standard and express shipping from Denmark
If you are looking for shipping solutions that involve standard and express shipping from Denmark, you've come to the right place. Sending packages from Denmark is now a seamless and hassle-free experience with Mail Boxes Etc. With insurance and tracking options available, as well as professional packing with high-quality packing materials, a team of experienced specialists at your side and so much more, your standard and express shipping from Denmark now got a whole lot easier!
☎ +45 3120 3616
⌨ info@mbedenmark.dk
📍 Østerbrogade 226, st. tv, 2100 Copenhagen, Denmark