DDP Incoterms: What DDP means in shipping?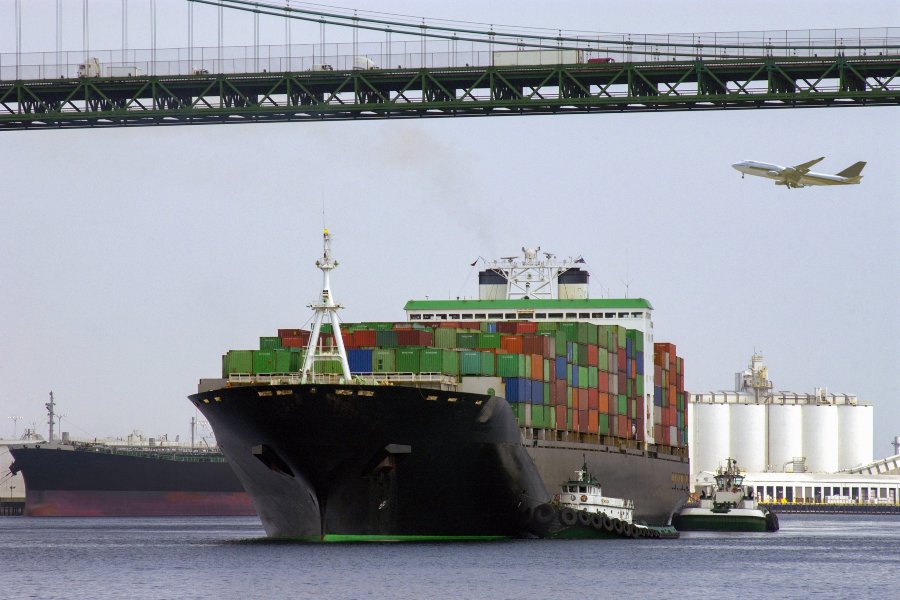 In the world of international shipping, there are a total of 11 incoterms that are used by buyers, sellers, importers and exporters worldwide.
These incoterms have been created to ensure a smoother and seamless transportation and importation process for all parties involved by harmonising the terminology, terms and conditions and processes so that all parties involved are on the same page.
When it comes to the specific DDP incoterms, you may be wondering what DDP means in shipping. The answer is that DDP incoterms stands for Delivery Duty Paid (DDP).
In the article below, we'll cover everything you need to know about it.
What is Delivery Duty Paid (DDP) in shipping?
Having mentioned that DDP shipping stands for Delivery Duty Paid shipping, DDP is used in international trade and in particular, it is part of a specific shipping terminology that helps all parties, irrespective of where in the world they are, to have a clear understanding of their rights, obligations and responsibilities when it comes to sending and receiving and exporting and importing goods.
With that being said, what is the DDP meaning? In short, it is a type of agreement between a seller (exporter) and a buyer (importer), which is entered into and is enforceable, and it essentially requires that the seller/exporter carries all of the associated costs and risks related to the shipment until the buyer receives it and unloads it.
It is therefore highly beneficial to the buyer/importer, who bears fewer risks and costs, and places the burden on the seller to carry these.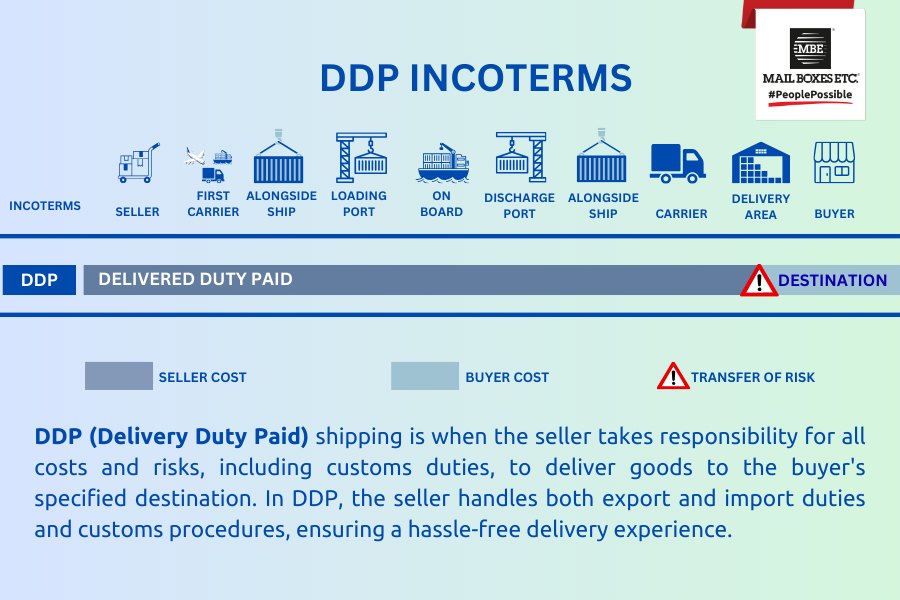 DDP is often used for exporting higher value goods that cost above $30 and goods which are part of a standardised process of export/import. Examples of the costs and risks that the seller/exporter will need to bear include:
Shipping fees (whether by road, air or sea)
Import and export custom duties
Damage fees
Shipping insurance
Value Added Tax (VAT) — here, VAT can range from 15% to 20% and the buyer may be eligible for a VAT refund, while the seller has to absorb this cost
Storage and demurrage (as part of customs clearance or delays by customs authorities, other government agencies, delivery drivers and air/ocean carriers).
Therefore, Delivery Duty Paid shipping tends to favour the buyer in most cases, because they do not shoulder the costs and risks involved in the process. Their responsibility only arises at the moment when they are required to unload or unpack a shipment.
Delivery Duty Paid (DDP): Advantages and disadvantages
While the burden of shouldering costs and risks falls on the seller/exporter, while the buyer's responsibility arises when the goods are delivered and need to be unpacked, there are some advantages and disadvantages of DDP in shipping.
On the one hand, DDP shipments can protect the buyer. This means that they are far more likely to receive what they ordered. Because of the high costs associated with DDP, it is highly unlikely that a player who is not considered serious will ship through this method.
A further advantage of DDP in shipping is that it ensures the safe delivery of the goods to the place of destination for international trade. It forces the seller/exporter to be diligent in choosing only the best and safest routes to ensure that their items arrive safely.
Thirdly, DDP ensures that once a buyer/importer has made a payment for the goods, the seller/exporter doesn't run away with the money. It's also a good way of ensuring the safe delivery of the items by sea or air freight, which can be complex to navigate.
Finally, DDP is an important way of holding sellers/exporters responsible and accountable for international fees. When they shoulder these fees, it creates a smoother purchasing experience for the buyer/importer because all that they will need to pay for is the final cost of the products.
Delivery Duty Paid: Seller and Buyer obligations
While the buyer/importer has the obligation to pay for the goods from the seller/exporter, the latter has the responsibility to carry out the following steps while shouldering liability:
Dropping off the package with a carrier or having it collected
The package is shipped to its place of delivery
The package arrives at the destination and VAT is charged
The package is dropped off at an agreed upon destination between the buyer and seller, and liability now transfers to the buyer.
DDP vs DAP incoterms
With a total of 11 internationally recognised incoterms, it's essential to understand the difference between DAP and DDP because they mean different things in international shipping. To understand DAP's meaning, let's first look at what it stands for. DAP stands for Delivered at Place, which means that the seller bears the responsibility for all costs and risks of delivering an item. It is important to understand the different incoterms' meanings and know what are incoterms so that the right terminology is applied when creating the shipment agreement between a seller/exporter and a buyer/importer. Therefore, it is crucial to know the difference between DAP and DDP because this will have serious financial implications for the seller/exporter.
DDP international shipping from a Denmark fulfillment centre
If you run an ecommerce business and you are looking for ecommerce shipping solutions, you will require the services of a Denmark fulfillment company to help you with the standard or express shipping of your products. When selling internationally or exporting, you will also need assistance with export and import customs clearance, and as a professional, trusted and reliable Denmark fulfillment company, you can always count on us at Mail Boxes Etc. to help facilitate a smooth shipment and clearance process for you, wherever in the world the final destination of your products may be.
☎ +45 3120 3616
⌨ info@mbedenmark.dk
📍 Østerbrogade 226, st. tv, 2100 Copenhagen, Denmark