Incoterms' Meaning: What Are Incoterms, Types and Expert Tips for Effective Shipping?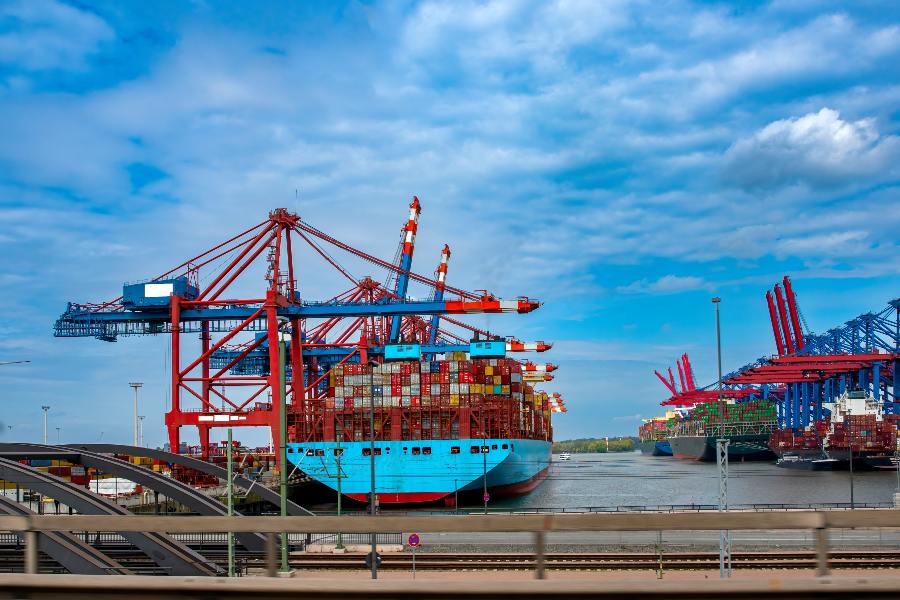 Navigating the world of international shipping is a complex process. It requires understanding the "language" of international shipping and being able to converse with third parties, carriers, transporters, etc. effectively. However, as part of this "language", it is essential that you have solid knowledge of incoterms. But what are these, how do they play out in the space between a buyer and seller in international shipping and how can you choose the right one? In this article, we explore the answers to these questions and more. Let's take a closer look.
What does incoterm mean in shipping?
For those with an interest in understanding incoterms, it is essential to know that this term stands for international commercial terms and they are an essential part of international shipping terms. These have been created by the International Chamber of Commerce (ICC) and they have been in use since 1936. Over the decades since then, these terms have gone through adjustments. However, they play an essential role in defining the relationship between buyers and sellers in international shipping and as such, they are internationally recognised.
The meaning of incoterms: A comprehensive explanation of their meaning in international shipping
Having covered the question – what are incoterms – and providing a brief incoterms definition, it is essential to understand this shipping "language" in more detail. International commercial terms (incoterms) are essential for facilitating international trade because they are so closely intertwined with imports and exports of goods.
Apart from other parties involved in international shipping, they are also used in customs clearance and this is why it is essential that all parties are able to "speak" to each other. Incoterms are updated every 10 years and the most recent update took place in 2020 with one change being made to one of the terms. The parties that are frequently involved in this process are buyers, sellers and logistics providers.
And because of the harmonisation across the borders of over 100 countries and used by over 45 million companies, choosing the right incoterm and agreeing upon its meaning between buyer and seller is an essential element in laying a strong foundation for the transportation and shipping process. One important factor when it comes to incoterms is that although they deal with the passing of risk, costs and insurance from one party to another, they do not define the passing of ownership in these cases and this is something that buyers and sellers need to agree upon in writing beforehand before the shipping journey begins.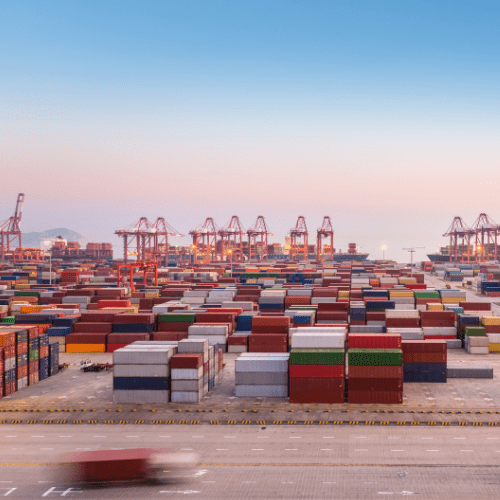 What are the common incoterms in shipping?
The different types of incoterms that are used in international shipping set out the transportation and delivery terms between buyers and sellers prior to an international shipping journey. In terms of such a transfer of goods, the latest incoterms or the incoterms 2020/2023 set out two clear categories of these terms and the subsequent terms under each category.
These two categories are either rules for any mode of transport or rules for sea and inland waterway transport. As such, the most commonly used incoterms for each of these categories will be discussed in more detail below.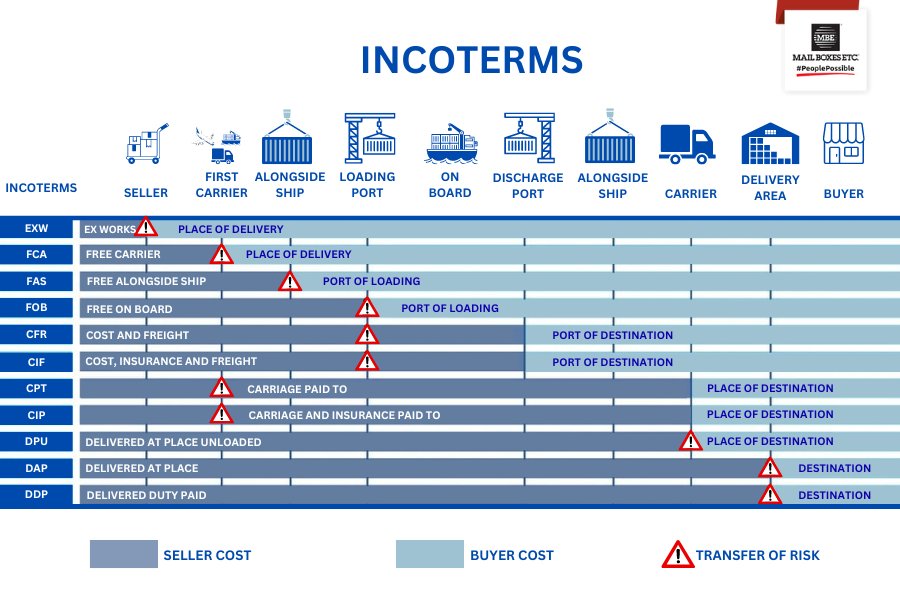 Incoterms rules for any mode of transport
There are seven incoterms rules for any mode of transport and these are:
EXW Incoterms: Ex Works – here, the seller's responsibility is to make the goods available for collection at their own business location or at a specified location. The costs of the transportation and the risk of transportation are borne by the buyer.
FCA Incoterms: Free Carrier – these terms indicate that the seller is responsible for the goods, including costs, up to delivery to the buyer's chosen carrier at a named location. The seller is responsible for export clearance, after which the responsibility transfers to the buyer.
CPT Incoterms: Carriage Paid to – in such a case, the seller is responsible for bearing the costs of transporting goods to the port of discharge. The mode of transport includes air and sea.
CIP Incoterms: Carriage and Insurance Paid to – these terms indicate the same seller responsibilities as CPT. However, maritime insurance is included in the costs.
DAP Incoterms: Delivered at Place – the buyer is responsible for unloading the goods at the named place of delivery. The buyer assumes responsibility from the point of unloading the goods. This includes import customs clearance, duties and taxes.
DPU Incoterms: Delivered at Place Unloaded – this is when the seller delivers goods to a terminal. All risk and transport costs are borne by the seller until they arrive and are unloaded. Once this is done, the buyer then assumes the risk and transport costs of the goods from the terminal to the final destination.
DDP Incoterms: Delivered Duty Paid – in this case, the seller assumes all the risk and all the transportation costs. They are responsible for clearing the goods for export at the shipping port as well as clearing them for import at the final destination. In addition to this, the seller is required to cover export and import duties under this rule. 
Exploring the DDP meaning and its significance in shipping and incoterms? Uncover a detailed understanding of the respective responsibilities of buyers and sellers within the framework of Delivery Duty Paid (DDP) shipping.
Incoterms rules for sea and inland waterway transport
Regarding rules for sea and inland waterway transport, four incoterms have been created. These are:
FAS: Free Alongside Ship – the seller's responsibility here is to place the goods alongside the carrier vessel at the port of export. In addition, they have the responsibility for export customs clearance and risk and cost up to that point. The buyer then assumes responsibility for the goods from loading onto the vessel and thereafter.
FOB: Free on Board – in this case, the seller delivers the goods on board a vessel that the buyer has named. Either party may assume all risks and costs.
CFR: Cost and Freight – with these terms, the seller's invoice will include the cost of the goods in addition to the cost of transporting the goods to the port of discharge. Local charges are not included.
CIF: Cost, Insurance, and Freight – this indicates that the seller should deliver the goods to a designated port, load them on a specific vessel and then assume responsibility for paying all insurance, transport and loading costs. After this, the buyer assumes the cost and risk in terms of transporting the cargo from a port to a warehouse or other location.
Having more clarity on the most commonly used incoterms, we now turn to choosing the right incoterm.
Choosing the right incoterm
Selecting the appropriate incoterm comes with multiple benefits among which include the elimination of ambiguity between countries. As such, trading has been made simpler, and in particular, this is the case when negotiating terms. This often results in cost and time savings, eliminating complex legal terms and contracts that would previously have been drawn up in each and every case. In turn, this reduces the documentation requirements and streamlines the international shipping process. However, despite the benefits, there are both advantages and disadvantages of incoterms. Here are just a few of these:
Advantages
Terms are easily understood
There is standardisation at an international level
The incoterms are updated and clarified by an international body
Disadvantages
Buyer and seller preferences when choosing terms can lead to clashes
Some terms may expose some parties to higher costs
Incoterms and customs clearance
It should be evident from the above that customs clearance and incoterms go hand in hand. This system of Harmonised System (HS) codes simplifies import and export procedures. As such, customs clearance and incoterms are deeply intertwined to ensure that international shipping processes are streamlined and made more efficient.
Conclusion: Best practices for using incoterms by MBE Denmark
Finally, at MBE Denmark, we recommend several incoterm best practices that you should consider following when undertaking any international shipping or export process. In particular, we recommend that you:
Establish written agreements to avoid misunderstandings
Ensure that all documentation is accurate and complete, and
Evaluate the need for insurance coverage to mitigate risks.
We hope that these incoterm best practices will help you have a smoother, more confident and successful international shipping experience. And if you require any help or have questions that you'd like assistance with, don't hesitate to get in touch with the specialists at Mail Boxes Etc. Denmark for these and other international shipping best practices.
☎ +45 3120 3616
⌨ info@mbedenmark.dk
📍 Østerbrogade 226, st. tv, 2100 Copenhagen, Denmark