International shipping restrictions & prohibitions: What items are not allowed to be shipped?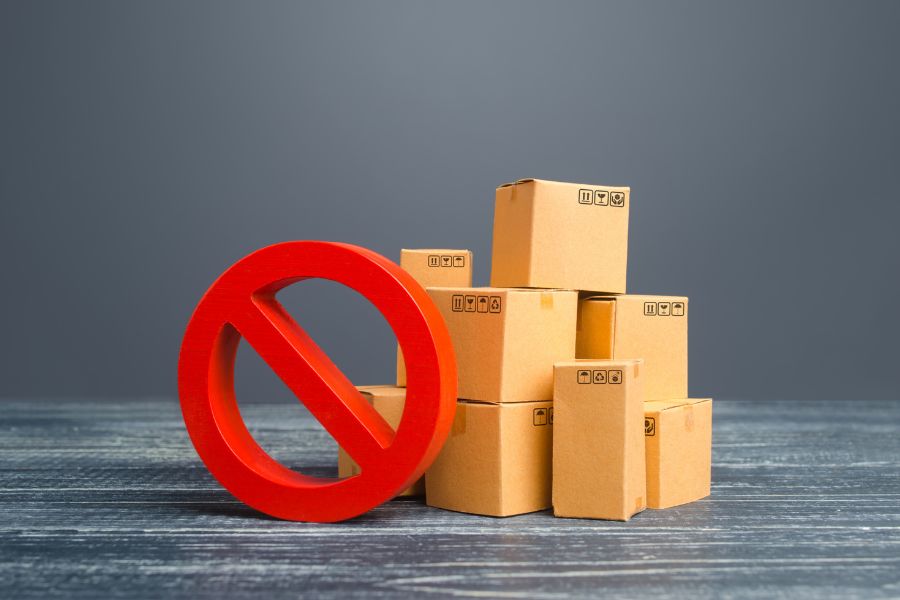 We use shipping to transport packages to friends, family and even to our business customers who live abroad. But to avoid disappointment by both the sender and the receiver when an item does not pass customs and the recipient doesn't get what they're expecting, it's important to know which items you are legally allowed and not allowed to ship abroad.
In this article, we'll cover a list of some of the most common prohibited items – or what items are not allowed to be shipped internationally at all – as well as restricted items, which are those that may require special permits or licences prior to shipping in order to comply with both the sending and receiving country's regulations and laws.
When you are more informed about such prohibited and restricted items for international shipping, you can make better shipping choices and be better protected – both personally and for your business as you will ensure that every item shipped abroad is within the legal bounds.
So, without further ado, let's take a closer look at these items and what these restrictions and limitations mean.
What items cannot be shipped internationally?
Just like every country has its internal laws for how people and organisations should conduct themselves and carry out activities and the ordinary course of doing business by defining what is legal and illegal, every country also places restrictions on the types of goods that can enter its borders from abroad.
These restrictions are there to promote law and order, safety and security as well as to help people abide by all the relevant regulations.
With this in mind, it is important to know that there is a list of prohibited items to ship internationally. However, there is also a list of items deemed to be restricted.
But what is the difference between prohibited and restricted items? The sections below explore this question in more detail.
What are prohibited shipping items?
In the world of shipping, there is a category of goods that are considered prohibited items for international shipping. Essentially, this means that there is no legal basis or ground for sending any such items abroad or allowing them to be shipped locally when they enter a country's borders.
Therefore, there are legal restrictions which, as the name suggests, completely legally prohibit senders from sending such items. Failure to abide by this could have significant consequences and every person or organisation who is interested in shipping items abroad should carefully check which list of prohibited items applies to them as well as how they can be more compliant and not fall foul of the law.
This is also an important reason why all shipping and courier companies will not permit you to send such prohibited items abroad as they are fully aware that these items are completely legally prohibited from being shipped, irrespective of destination.
There are numerous examples of such prohibited items and a short and non-exhaustive list of them appears here: aerosols, air bags, alcoholic beverages, ammunition, cigarettes and tobacco products, dry ice, explosives, gasoline, hemp-based products (including cannabidiol), marijuana (medical or otherwise), nail polish, perfumes (containing alcohol), poisons, fireworks, hazardous waste, bank bills, notes or currency (other than coins), bullion, loose precious and semi-precious stones, human remains, live animals, animal parts and trophies, narcotics, illegal objects, pornography and gold, among others.
By looking at this list, it should immediately make sense that while some goods are absolutely illegal in any country, others may pose a health or safety risk during shipping or upon receipt by the recipient. Therefore, the classification of these goods as prohibited should come as no surprise.
What are restricted shipping items?
Apart from prohibited items for international shipping, there is another category of items which is subject to international shipping restrictions.
These items are called restricted shipping items and they usually require a special licence, permit or legal permission before you're able to legally ship them abroad.
There may be restrictions to which countries you may ship some of these goods to and there may also be additional legal requirements before you can proceed with shipping.
Therefore, before you start packing, consider whether your item falls in one of the following categories and also check whether you need a special licence to export them or to ship them abroad.
These categories include but are not limited to: alcoholic beverages, electronic cigarettes, watches, medical cannabis, food, fragile items, articles of high/unusual value, biological substances, dangerous goods, firearms and weapons, objects with sentimental value, flowers or other plants, seeds, items that can damage other parcels during the transport, prescription drugs and many others.
International shipping of restricted items from Denmark with MBE
At Mail Boxes Etc. Denmark, we completely understand that shipping items abroad is a necessary part of doing business. However, before you start packing anything, you should be 100% clear about whether the items you'd like to ship overseas fall within the prohibited or restricted category of goods.
If you have any doubts about international shipping from Denmark and whether the items you'd like to ship to another country are safe and legal to do so, then don't hesitate to get in touch with us.
Our friendly and helpful team is ready to help you make the most out of your shipping experience. With nearly 40 years of helping businesses and individuals like you ship abroad, you can count on us for the right advice.