What are Pallets and Palletizing in International Shipping?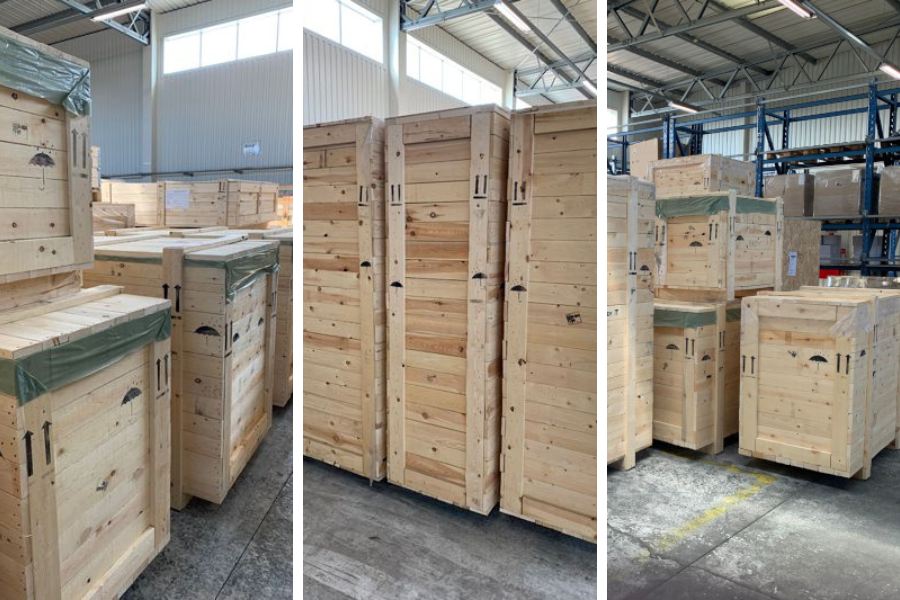 What is a pallet in shipping? Pallets in simple meaning are portable flat platforms that are used to support, stack, store and transport goods in more efficient and safer ways. Pallets are classified into three types based on their dimensions: European Shipping Pallets, also known as Euro Pallets, American Pallets, and Australian Pallets. The European and American pallets are both 120cm long, with the European pallet being 80cm wide and the American pallet being 100cm wide. The length and width of Australian pallets are both 105 cms. Similarly, the pallet height for all three of the above is 15 cms. The height of the pallets with the load, however, should not exceed 150 cms or 160 cms for all three pallets based on the air carrier whereas in terms of road carriers the height could range up to 180 cms based on the road carriers.
What are the different types of pallets used in shipping?
Similarly, there are four pallet types based on the materials used in their manufacture. The first is the most common – the wooden pallet, which is widely available and can easily be repaired. They are commonly used for heavier items, but extra caution is considered necessary when using wooden pallets for international shipments because the wood used to make the pallets must be treated in accordance with international standards.
The second type of pallet is made of plastic, which is typically more expensive than wooden pallets. However, plastic pallets are more resistant to corrosion and humidity and have an anti-slip surface with a high payload capacity. They are mostly used for transporting food and pharmaceuticals.
The third type of pallet is the low-cost cardboard pallet, which is light in weight and can only be used once. They are not appropriate for heavy goods or humid environments. They are, however, more environmentally friendly because they are 100% recyclable.
Metal pallets are the fourth type of pallet and are typically used for extremely heavy items. Steel and aluminum could be used depending on the need, as they are also safer in terms of cross-contamination or fire.
What are pallets used for?
What is the purpose of pallets and what are pallets used for? Pallets are pretty much exclusively used to transport heavy items in the most efficient manner possible. We can use pallets to safeguard and absorb stresses by mitigating knocking and colliding during transporting goods such as wine shipping, barrel shipping. They hold the weight, withstand fork truck impacts, and properly protect goods for an effective supply chain journey.
Pallets are also used to keep items firmly packed and avert them from shifting, thereby making it easier to transport the goods. Pallets are becoming increasingly useful in improving the mechanical handling of goods. Pallets outperform other types of shipping containers, including cardboard boxes, due to their superior strength, as more and heavier items can fit on a pallet.
Thus, pallet packing is also done to stack smaller items all together, which simplifies product tracking and improves protection by securely safeguarding packages to prevent them from becoming abandoned while making international shipping from Denmark. You should be aware that pallets packaging is an extremely important task. If you are not sure how to properly pack your pallets, request a quote for MBE Denmark's professional packing services.
What is palletizing?
What is palletizing and what does it mean to palletize a shipment? The meaning of palletizing, in a nutshell, is the process of stacking and managing larger quantities of items on a pallet in such a manageable manner that it aids the pallet's stability and mobility during high-volume shipping in the safest possible way.
Palletizing begins with the manual packaging (safeguarding) of separate boxes or individual items, followed by the selection of the appropriate sized pallet that is strong enough to support the load and, ideally, has forklift access for smooth transportation. When stacking items into pallets, they must be positioned according to weight and in an orientation that improves stability and product integrity. The items could be column stacked to stabilize the pallet. Interlocking stacking could also be used because it improves pallet stability as long as the merchandise inside the packages are stable.
However, it is critical that all of the items fit within the pallet without any edges protruding beyond the pallet. Once all of the items have been properly placed on a pallet, it is absolutely essential to shrink wrap the entire pallet several times to standardize the palletized shipment's structure and protect it from dust and moisture. Similarly, this aids in the adhesiveness of the palletized shipment, and strapping the pallets across all four directions will aid in ensuring the shipment's balance and protection.
Our shipping experts at MBE Denmark have given you a comprehensive definition of the palletized shipment meaning and are on hand for any other questions related to international shipping as well.
Pallet shipping companies in Copenhagen
Are you looking for pallet shipping companies in Copenhagen, Denmark to transport your pallet(s) or relocating or moving your business from Copenhagen to anywhere in the world? Fill out the quotation form today to receive a personalised MBE quotation. Mailboxes etc Denmark, as your pallet shipping company in Denmark, will take care of your items from securely packing them individually using the proper quality and quantity packaging materials to palletizing them using the proper technique based on the requirements of each item so that they are eventually palletized safe and secure. The pallet would then be securely shrink wrapped and strapped from all sides. After selecting the appropriate insurance and shipping services, our job is only complete when your pallet arrives at its destination safely and securely.
Get your quote for international shipping service and let us find the right palletizing solution for the transport of your Pallet from Denmark today.